What is Dispatch Software?


Security dispatch software is one of the many tools available in a comprehensive security guard management software system. In this system, dispatch is a customizable dashboard tool that seamlessly links security teams to internal backup and outside assistance.
Dispatch software also allows security guards to quickly send other guards to various locations, while simultaneously recording incident details, creating a digital communication trail, and connecting guards with backup.
Leverage Dispatch Software to Improve Your Security Processes
Traditional dispatch methods are antiquated and time-consuming, especially for short-staffed security teams. Dispatch software can be leveraged to improve the following processes for your security team:


Streamline communication between security teams
Speed up incident response and resolution
Replace paper reports and other tangible materials
Prioritize incidents and track follow-up procedures
Gather and measures all incident-related data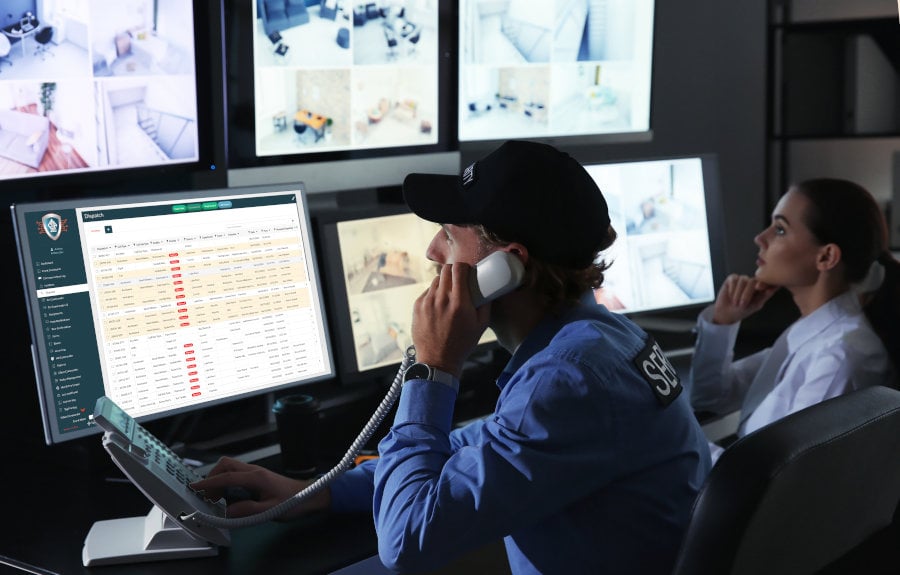 Top Features for an Effective
Dispatch Software Solution
The digital tools that your dispatch software features provide a vast number of advantages for your security teams. When choosing the right dispatch software, you'll want to look for these features:


Customizable status fields, like "In Progress", "Complete", and "Time Cleared"
Color-coded alerts
Branch, Department and Event Fields that can be filtered by any title heading
Customizable dispatch email templates with status filters
Mobile app capabilities
Customizable archive search for expedited research into past incidents and records
Pre-populated dispatch fields to avoid duplication of new incidents
5 Benefits of Utilizing Security Dispatch Software
Dispatch software expedites communication and issue resolution for security teams. But that's just the beginning. Here are 5 more ways dispatch software benefits security teams:


1. Leverage valuable security team insights
Dispatch software allows your security team to resolve incidents quickly. But it is also an invaluable training tool.
Customizable status fields, like "In Progress", "Complete", and "Time Cleared", have recently been added to the dispatch archive view. When the dispatch is finalized, the software will automatically total the time between "Report" to "All Clear," offering valuable team analytics. You can use this information to analyze how quickly your security team responded, and what steps they took to resolve the issue.


2. Boost security team efficiency
Dispatch software elevates your security team's capabilities in many ways. But chief amongst these is speed. Color-coded alerts within dispatch software allow your security team to move extraordinarily quickly, even while an issue is happening. This is because color-coded tools communicate much faster than paper or digital reports. Some of the other ways dispatch color codes can help your security team include:
Highlight important alerts right in the main dashboard.
Security guards can see the tickets that need the most attention right away.
Security teams can also see what has already been resolved, saving teams from wasting time or repeating processes.


3. Quickly update dispatch data, as needed
Security incidents happen quickly. Sometimes, there isn't enough time to run a full dispatch ticket. But dispatch software allows you to update Narrative and Status from the Main screen without going into the dispatch ticket, saving considerable time.


4. Improve your incident management process
Incident management can be a major challenge for security teams. But dispatch software practically eliminates these challenges. Dispatch management duplicates your incident and incident subtypes in your call types for automatic entry into your incident management software. This substantially streamlines all communication and incident details, making it far easier to create incident reports. Other ways dispatch software improves the incident management process includes:
Create customized dispatch templates. Simply enter your dispatch data and allow it to create your incident with all the details and narrative you have already entered.
All in one dispatch updates. Dispatch software makes it easy to make changes or edits to each report. Once you edit your dispatch, it automatically updates your incident. You can also edit your Incident from the Dispatch you created, and it will always reference the dispatch.
Toggle between the Dispatch and the Incident, keeping all information at your fingertips.



5. Automatically Connect to Backup Resources
What happens when security teams don't respond properly to incidents? Property damage, legal problems, and loss of client trust are just a few negative repercussions. Poor communication and inability to contact outside assistance only compounds these issues. But dispatch software, and its customizable security widgets, make it easy to connect with backup assistance no matter the issue.
Widgets are shortcuts to different pieces of information, like personnel locations or immediate dispatch access. These personalized widgets gives security teams all the details they need right at their fingertips, including weather and local news.
3 Security Guard Management Software Features that Work with Dispatch Software
Dispatch software is an excellent way to improve security guard response processes. But it is only one of the many valuable modules available in a security guard management software system. Other feautures include:


1. Live dashboards to aid in dispatch assignments.
Live dashboards provide 24/7 surveillance from any location in an event or venue. GPS tracking provide precise locations to dispatch, allowing security teams and outside assistance to get where they are needed quickly.


2. Incident reporting software to track and manage dispatch details.
Incident reporting software is the perfect accompaniment to dispatch software. Incident reporting tracks, stores, and manages all incident-related incidents in one central dashboard.
When incidents arise, confusion can ensue. Dispatch can be messy. But incident reporting software practically eliminates these risks. The streamlined communication tools in digital incident reporting make sure security guards get where they need to be right away. Dispatch is easily contacted, reports are quickly analyzed, and the visual proof is gathered from live dashboard surveillance.
When coupled with real-time incident reporting, security teams can quickly identify high-risk areas and dispatch guards far more quickly. The right digital reports will also showcase patterns or recurring incidents, helping security companies create proactive plans that are adaptable for any client.


3. Enhanced guard tour management to increase workforce accountability and efficiency.
To operate a successful guard tour, communication must be air-tight. That's why dispatch software is a great addition to enhanced guard tour management software, especially when combined with a guard tour mobile app. When tour incidents arise, dispatch software sends additional assistance to high-risk areas quickly, while gathering and organizing all communication-related details. Dispatch software improves efficiency and security guard accountability without requiring teams to add extra guards to payroll.
"One of the greatest things about CSA360 is just how simple it is for officers to use, and it works in real time. Our staff have found it a great step up and are really engaging with the technology. And, the customer service support is second to none!"
Ronald Terry - Director of Training